Dr. Zev Nevo
Physical Medicine & Rehabilitation
Interventional Sports, Spine and Regenerative Medicine
Dr. Nevo is a double board-certified, fellowship-trained physiatrist who specializes in non-surgical interventional sports, spine and regenerative medicine. He is the founder and medical director of NESS – Nevo Sports and Spine.
Dr. Nevo utilizes precise musculoskeletal ultrasound and fluoroscopy to localize and treat joint, tendon, ligament and nerve disorders. He has extensive experience in both traditional and regenerative treatments, including autologous platelet-rich plasma (PRP) and bone marrow-derived stem cells (BMAC), to treat orthopedic and spine conditions.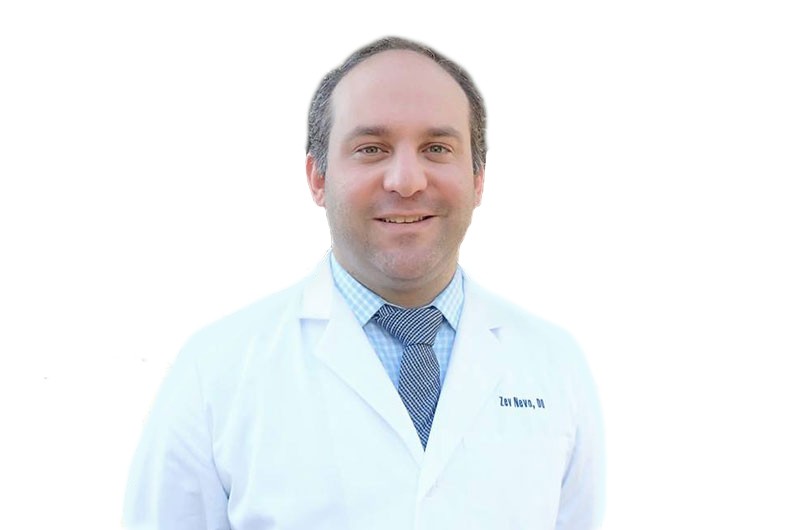 Background

Dr. Nevo was born and raised in Brooklyn, NY. As a son of immigrants, he learned to embrace diversity. Growing up, he loved playing competitive sports in the community. Experiencing sports injuries and whiplash syndrome following a car accident, Dr. Nevo has had personal experience being on the receiving end of therapy and injections. Dr. Nevo is the father of four wonderful children. His wife, Amy is a school psychologist for the Los Angeles Unified School District.

Values

Dr. Nevo values the importance of "walking in another's shoes". He makes an indefatigable effort to build rapport and learn about the personal needs of each and every patient. He believes in treating people of all walks of life with the utmost respect and empathy. Dr. Nevo has a long history of volunteerism and community service, ranging from working with veterans, persons with disabilities and underserved populations.

Educator

Throughout his training, Dr. Nevo seized opportunities to share knowledge and clinical skills amongst his colleagues. In medical school, he received multiple awards for his service as a teacher's assistant. He was a member of the prestigious Sigma Sigma Phi Honors Society. Dr. Nevo also led multiple workshops and gave multiple lectures to his peers during his specialty training. More recently, Dr. Nevo has shared his expertise in diagnostic ultrasound with other physicians and practitioners as an instructor at several medical conferences.
Education:
FELLOWSHIP IN SPORTS MEDICINE, INTERVENTIONAL SPINE AND REGENERTATIVE MEDICINE :

Marko Bodor,

MD Napa, California

RESIDENCY IN PHYSICAL MEDICINE AND REHABILITATION:

Rutgers NJMS/Kessler Institute for Rehabilitation,

Newark,New Jersey

TRADITIONAL ROTATING INTERNSHIP:

Maimonides Medical Center, Brooklyn,

New York

DOCTOR OF OSTEOPATHIC MEDICINE:

Touro College of Osteopathic Medicine,

New York, NY

BACHELOR OF SCIENCE IN HONORS BIOLOGY, PSYCHOLOGY MINOR SCIENCES:

Touro College,

Brooklyn, NY
Certifications:
Board Certified - American Board of Physical Medicine and Rehabilitation:

Board Certified – American Board of Regenerative Medicine:

Registered in Musculoskeletal® (RMSK®) sonography certification:

Board Eligible in Electrodiagnostic Medicine

Board Eligible in Pain Medicine
Licenses:
California Medical License

Fluoroscopy Supervisor and Operator License

Credentialed at Beverly Oaks Surgery Center, Sherman Oaks, CA
Professional Affiliations:
American Academy of Physical Medicine & Rehabilitation (AAPMR)

American Academy of Regenerative Medicine (AARM)

Spine Intervention Society (SIS)

CALSIPP (California Society of Interventional Pain Physicians)

WAPMU (World Academy Pain Medicine Ultrasonography)
Research:
Post Ultrasound-Guided Carpal Tunnel Release Outcomes Studied electrodiagnostic and nerve conduction outcomes on patients who had underwent an ultrasound-guided release procedure.

Acute Acalculous Cholecystitis in a Patient with Chronic Spinal Cord Injury: A Case Report Presented at the annual AAP conference in Feb 2017 in Las Vegas, NV.

Does Weight Effect Functional Gains During Inpatient Rehabilitation in Patients with Acute Spinal Cord Injury? Residency graduation research project

Cervical Whiplash: PM&R Knowledge NOW www.aapmr.org peer-reviewed online publication.

Osteonecrosis of the Knee in an HIV Patient: A Case Report Case report presented at the AAP Feb 2018 conference in Atlanta, GA.

Touch of Medicine: An Osteopathic Manipulative Medicine Manual (unpublished) Authored a comprehensive manual based on the osteopathic approach to physical examination as well as modalities of OMM treatments.
Areas Of Expertise:
Physical Medicine and Rehabilitation

Interventional Spine Medicine

Musculoskeletal Ultrasound

Regenerative Medicine

Electrodiagnostic Medicine

Osteopathic Manipulative Medicine/Neuromuscular Medicine

Expert Witness

Personal Injuries

Motor Vehicle Injuries

Sports Medicine